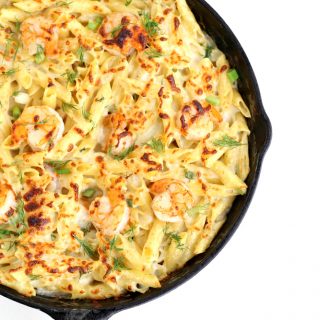 1 lb penne pasta
1 lb extra large raw shrimp, peeled and deveined
2 tablespoons butter
2 tablespoons flour
1½ teaspoons old bay seasoning
½ teaspoons salt
¼ teaspoon black pepper
3 cups milk
2 cups mozzarella cheese
½ cup finely grated romano cheese (I used a Microplane grater, so the cheese is super fluffy, not packed in the measuring cup)
fresh dill
Cook pasta according to package directions.
Heat a large cast iron skillet on high add a teaspoon of oil.
Add in the shrimp and cook them on each side for a few minutes, they don't take long to cook.
Remove shrimp from skillet, you'll add them back in at the end.
Add 2 tablespoons butter to the skillet on medium high heat, and whisk in the flour until combined.
Add in the old bay seasoning with salt and pepper.
Then slowly add in the milk and whisk and cook until smooth, then add in 1 -/2 cups mozzarella cheese and ¼ cup romano cheese reserving the rest for the top to brown under the broiler.
Mix the pasta into the sauce and add back in the shrimp.
Top with remaining cheese and place skillet under broiler on high for 2-3 minutes.
The cheese will brown, be sure to watch it so it doesn't burn.
Top with fresh dill and serve.