Eggnog Frosting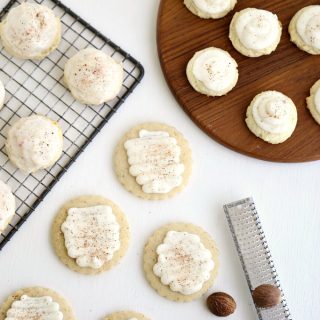 1/4 cup butter
1 oz cream cheese
1/4 teaspoon rum extract
1/4 teaspoon nutmeg
1 1/2 cups powdered sugar
1/4 cup heavy cream
additional nutmeg for topping cookies, fresh nutmeg or dry.
In mixer bowl beat butter and cream cheese until smooth.
Mix in rum extract and nutmeg.
Add in powdered sugar and heavy cream and beat on high until fluffy.
Pipe onto cookies with a #6 round tip for cut out cookies or small drop cookies, for larger cookies heat the frosting for 10 seconds just until it's warm, then dip the cookies into the frosting and allow to firm up on a rack.
sprinkle cookie with nutmeg before frosting firms up.
Use a fine strainer or pinch the dry nutmeg so there isn't too much on each cookie, freshly grated nutmeg is wonderful and perfect on these cookies if you find it.