Eggnog Cookies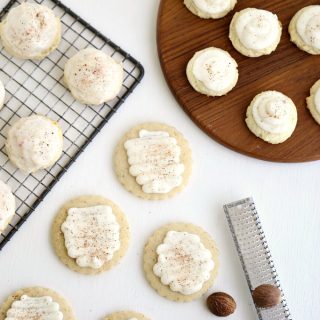 1/2 cup butter (room temperature)
1 oz cream cheese (room temperature)
1 teaspoon vanilla
1/2 teaspoon nutmeg
1/4 teaspoon rum extract
1 cup powdered sugar
1 egg
1 1/2 cups flour
1 teaspoon baking powder
In a large mixer bowl beat butter with cream cheese until whipped well
Add in vanilla, nutmeg, and rum extract, mix well.
On medium low mix in powdered sugar until fully combined.
Add in the egg and mix completely.
Mix in flour and baking powder until well mixed.
Roll dough out with a little flour in between wax paper sheets for cut out cookies,
this dough is a little sticky.
Scoop out cookies for drop cookies with a 3 tablespoon scoop, and a 2 tablespoon scoop for smaller cookies to press flat.
Place cookies onto parchment lined baking sheets.
The cookies bake at 400 degrees for 7-9 minutes.
Allow cookies to cool on baking sheet before moving them.