Pink Peppermint Cut Out Cookies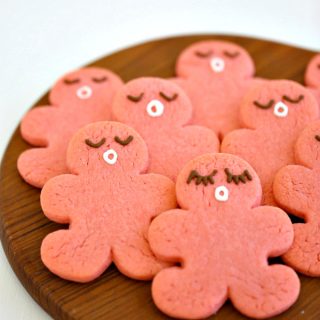 1 cup unsalted butter
1 1/2 cups sugar
1 egg
1 teaspoon peppermint extract
1 teaspoon vanilla extract
3 drops soft pink color or the amount you like to get the color achieved you prefer
2 3/4 cups flour
2 teaspoons baking powder
1/2 teaspoon salt
In large mixing bowl beat butter with sugar for 2 minutes.
Add in the egg, extracts and pink color.
On medium speed mix in flour, baking powder and salt.
You'll know the cookie dough is completely combined as it comes away from the sides of the bowl easily.
Form a ball with the cookie dough and cut it in half and roll out one-half in between wax paper.
I use wooden dowels that are 1/4" thick to be sure the dough is even.
Even cookie dough turns out evenly baked cookies.
Use a gingerbread cookie cutter to cut cookies and place them on a parchment-lined baking sheet.
Bake cookies in a 400-degree oven for 7-9 minutes.
Allow cookies to cool on baking sheet before moving cookies.
Use royal icing or other icing or frosting to decorate the angel cookie faces.
Recipe by
Created by Diane
at https://www.createdby-diane.com/2016/12/pink-peppermint-cut-out-cookies.html