Chewy Peppermint Cookies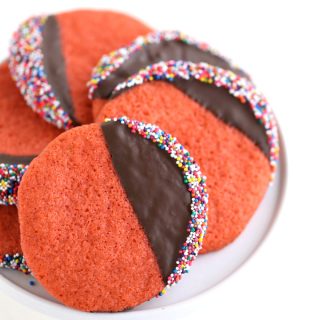 1/2 cup butter
1/4 cup sugar
1.4 cup brown sugar
1 egg
1/2 teaspoon vanilla
1/2 teaspoon peppermint extract
3-4 drops soft pink food color (I use Americolor Coloring)
1 cup flour
1/2 teaspoon baking soda
1/2 cup dark chocolate candy melts
1/4 cup nonpareils rainbow sprinkles
In large mixer bowl beat butter with sugars.
Add in egg and mix completely.
Then add in vanilla, peppermint, and pink coloring and mix in well.
Mix in flour and baking soda.
Scoop 2 tablespoons of dough onto parchment-lined baking sheets and bake for 9-11 minutes. Allow the cookies to cool on the baking sheet.
Then melt the chocolate and dip the edges of the cookies into the chocolate and then sprinkles.