Maple Banana Walnut Cake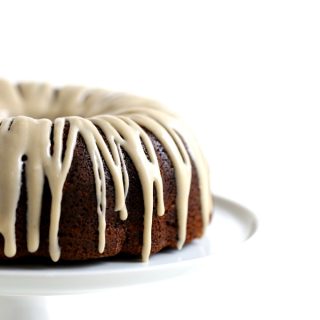 2 eggs
2/3 cup oil
2 tablespoons vanilla bean paste
1 1/2 teaspoon maple extract
2 cups granulated sugar
2 cups flour
1 teaspoon baking soda
1/2 teaspoon salt
1 teaspoon cinnamon
1 cup whole milk
2 bananas diced
1 cup walnuts chopped fine
4 oz cream cheese, room temperature
2 tablespoons butter, room temperature
1 cup powdered sugar
1 teaspoon vanilla extract
1 teaspoon maple extract
In a large bowl with a mixer blend eggs, oil, vanilla, maple extract and sugar until whipped up well. Mix in the diced banana.
Add in flour, baking soda, salt, and cinnamon.
Mix in the milk, then stir in chopped walnuts.
Place batter in a bundt pan (or 13x9 pan) that has been liberally sprayed with a baking spray.
bake at 350 degrees for 50-55 minutes for bundt or 35 minutes for 13x9 or until toothpick comes out clean.
Allow cake to cool for 20 minutes, then turn bundt out onto a cooling to completely cool for bundt, for 13x9 you can leave it in the pan to cool completely before adding icing.
Mix icing:
In a mixer beat cream cheese, butter, sugar, vanilla and maple extract until silky smooth.
Drizzle over the cooled bundt cake.