Fruity Pebbles Cake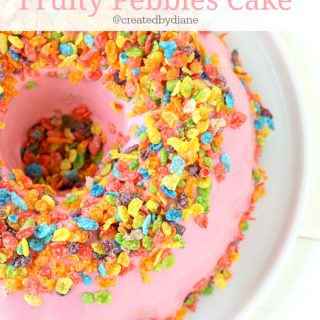 2 cup sugar
4 eggs
2 1/2 cups flour
1 cup milk
1/2 cup butter, melted and cooled
1/4 cup oil
2 1/2 teaspoons baking powder
2 teaspoons vanilla bean paste
3 1/2 cups fruity pebbles cereal
3 cups powdered sugar
1 teaspoon corn syrup
3 drops soft pink gel color
1 tablespoon water
Preheat oven to 350 degrees.
In large mixer bowl beat sugar with eggs.
On low mix in flour, milk, butter, oil, baking powder and vanilla.
Mix until completely combined.
Stir in 2 cups of cereal (reserve 1 1/2 cups for decorating cake_
Spray a bundt pan well with baking spray.
Pour batter into pan and bake at 350 degrees for 40-45 minutes or until toothpick comes out clean. Test cake every 2 minutes as it gets close to the end so you don't overbake it.
Cool in pan for 15 minutes, then turn pan over onto a cooling rack and allow the cake to cool completely before icing.
Mix powdered sugar, corn syrup, pink color, and water together until smooth and thin enough to be able to drizzle over the cake without being too runny. Add in a couple DROPS of water at a time to get a silky smooth icing.
Place a piece of wax paper or foil under a cooling rack to catch the drippings of the icing.
Pour icing over cake and spread with a spatula until the whole cake is completely covered.
Place cereal over the top of the cake and some around the bottom where the cake meets the plate.