Chocolate Strawberry No Bake Cheesecake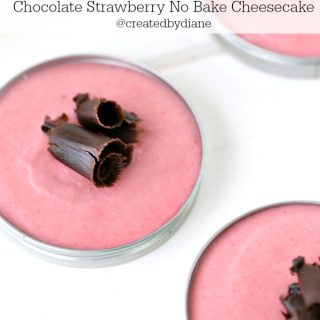 24 Oreos
3 tablespoons butter
1 cup strawberries
2/3 cup sugar plus 2 tablespoons sugar (measured separately)
1-8 oz package cream cheese at room temperature
In a food processor mix Oreos and butter.
Place two tablespoons into mason jar lids.
Press the mixture with the bottom of a small measuring cup to pack it tight.
Place the lids on a baking sheet so they are easy to move, and place them in the fridge for 15 minutes.
in a medium saucepan heat strawberries with 2 tablespoons sugar, bring to a boil and cook for 3-4 minutes. Until the strawberries are completely soft.
Press the mixture through a fine strainer.
In another saucepan heat cream cheese and 2/3 cup sugar and heat on medium and whisk until smooth.
Add strawberry mixture to cream cheese mixture and whisk until creamy smooth.
Pour about 3 tablespoons of the mixture into each mini pie crust.
Place them in the fridge for an hour to firm up, or freeze them, they are great cold from the fridge or freezer.
Top them with chocolate curls.
to make chocolate curls, heat chocolate candy melts in the microwave, then spread them on the back of a baking sheet and place in the fridge to chill for a few minutes. Then curl with a pastry scraper to create curls.
Recipe by
Created by Diane
at https://www.createdby-diane.com/2016/10/chocolate-strawberry-no-bake-cheesecake.html