Lemon Vodka Pasta Sauce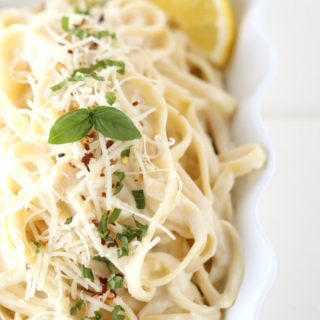 1 lb pasta
2 tablespoons butter
1 tablespoon crushed garlic (or garlic paste)
1 tablespoons flour
½ cup heavy cream
½ cup milk
½ cup vodka
½ cup lemon juice
¼ teaspoon crushed red pepper
*garnish with parmesan cheese and fresh basil if desired
Cook pasta according to package directions.
In a skillet heat butter, garlic, and flour and high while whisking in heavy cream, milk, and vodka.
Turn heat to medium. and whisk in lemon juice, and crushed red pepper. Cook for 4-5 minutes.
Pour sauce over pasta, top with parmesan cheese, fresh basil and crushed red pepper.