Pumpkin Alfredo Sauce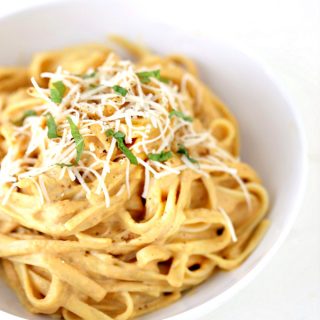 1 tablespoon butter
1 tablespoon garlic paste or minced garlic
1 cup pumpkin puree
1/4 cup marinara sauce (optional)
1 cup heavy cream
1/2 cup milk
1/4 cup parmesan cheese
1/2 teaspoon salt
1/8 teaspoon black pepper
*garnish, additional parmesan cheese, basil, grated nutmeg
In a medium saucepan heat butter with garlic.
Add in pumpkin puree, marinara sauce, and heavy cream, milk, and whisk until smooth.
When sauce comes to a boil over medium heat stir in parmesan cheese, salt and pepper.
If you prefer it cheesier add an additional 1/4 cup parmesan cheese.
If you don't prefer your sauce too sweet, add in 1/4 cup marinara sauce.
Stir over 1 lb cooked pasta and garnish with additional cheese, basil, and nutmeg.