Apple Pie Ice Cream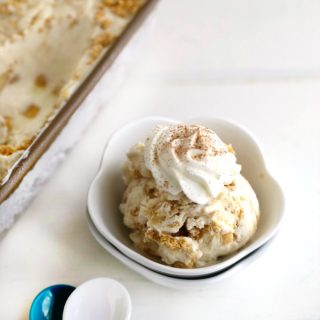 2 apples ( I used fuji apples)
1 tablespoon butter
2 tablespoons brown sugar
1/4 teaspoon cinnamon
2 cups heavy cream
1-14 oz can sweetened condensed milk
1/2 cup graham cracker crumbs
2 tablespoon melted butter
Peel and dice the apples.
In a medium pan, saute the apples with butter and brown sugar.
With a mixer whip heavy cream until firm peaks form, then fold in sweetened condensed milk.
In a small bowl add melted butter to graham cracker crumbs and mix with a fork until when pressed together the mixture holds together.
Gently stir apple mixture into ice cream mixture.
Layer the ice cream mixture with portions of graham cracker crumbs that have been pressed together.
Freeze for 4 hours.