Pumpkin Cannoli Cones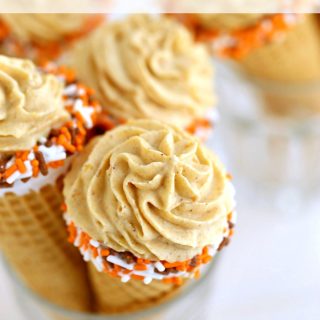 24 oz ricotta cheese
½ cup heavy cream
½ cup powdered sugar
½ cup canned pumpkin
2 teaspoons pumpkin pie spice
12 ice cream cones
½ cup white chocolate melting wafers (1¼ cup if filling the cones)
Sprinkles
Place ricotta cheese in cheese cloth or paper towel and allow the excess moisture in it to dip out over a bowl or sink for 5-10 minutes.
Melt white chocolate and place a piece of wax paper on a try to rest the freshly dipped cones on so you can transfer them to the fridge easily.
Dip the edges of the cones in white chocolate then in sprinkles.
Place them on the wax paper lined tray and put in the fridge for 5 minutes.
(If you make them ahead of time put melted chocolate in the whole cone, so the filling doesn't soften the cones, but be sure to allow the chocolate to drip out so it's only a thin coat.
In mixer whip heavy cream until it's firm and fluffy.
On low add in powdered sugar, pumpkin, pumpkin pie spice and ricotta cheese and once the mixture is blended, mix on medium speed until fully combined.
Place mixture in a piping bag with a star tip and pipe into cones.
Keep in fridge until ready to serve.