Pink Coconut Cake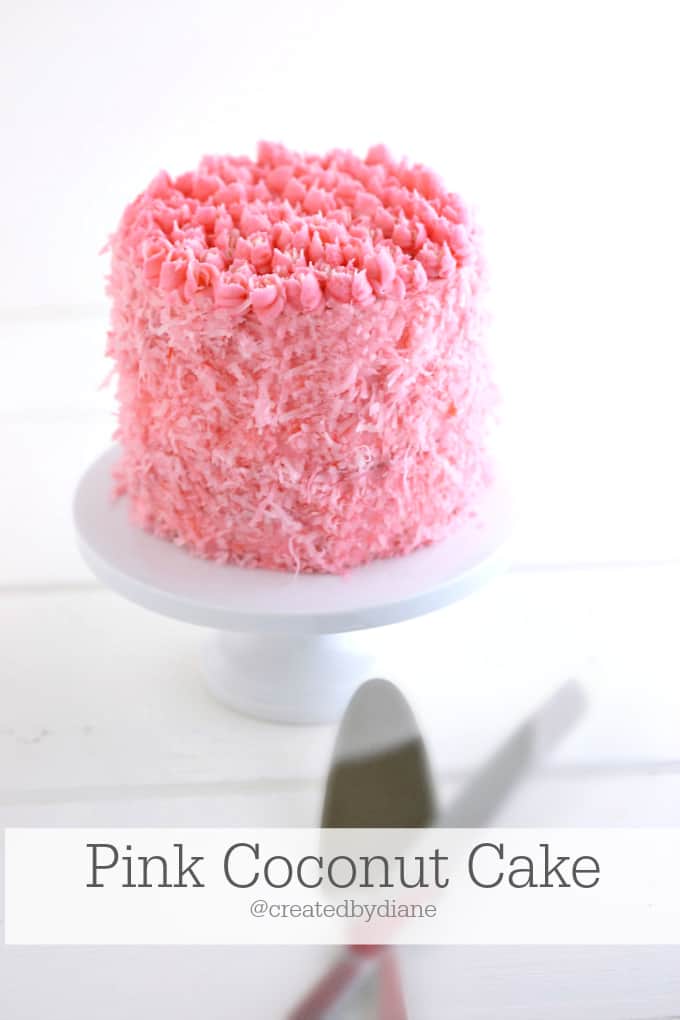 Serves:
2 6" cakes + 6 cupcakes
2 cups sugar
4 eggs
2 cups flour
1 cup milk
1/2 cup butter, melted and cooled
1/4 cup oil
2 1/2 teaspoons baking powder
2 teaspoons vanilla bean paste or vanilla extract
1 1/2 teaspoons coconut baking emulsion or coconut extract
( 1 14 oz bag of sweetened shredded coconut and pink food coloring for outside and filling of cake)
In large mixer bowl, beat sugar and eggs until mixed well
Mix in flour, baking powder, milk, butter, oil, vanilla and coconut flavors on medium to medium-low until completely combined.
This recipe makes 2 6" cakes plus 6 cupcakes.
Use a baking spray to coat the cake pans and paper liners for the cupcakes.
(Baking spray is a combination of oil and flour, the spray allows for a very thin coat which is great for cakes and helps them release from the pan easily)
Place 2 cups of batter into each 6-inch cake pan.
Place 3 tablespoons of batter into each cupcake liner.
Bake at 350 degrees.
Bake the cupcakes for 20 minutes and the cakes for an additional 5-8 minutes (cakes 25-28 minutes total)
Test with a toothpick, place the toothpick into the center of the cake and cupcakes and it should come out nearly clean.
Completely cool cakes.
Wrap and freeze cakes for 4 hours to overnight.
Remove the cakes from the freezer and unwrap.
Stack up the two cakes, placing some frosting and coconut in the center of the layers.
Then spread about a 1/2 cup frosting over the cake thinly and smooth it out. Then place the cake in the fridge to chill to set up, this will make it easier to spread the remaining frosting on the outside
and press the pink coconut into it. Pipe the roses on top.