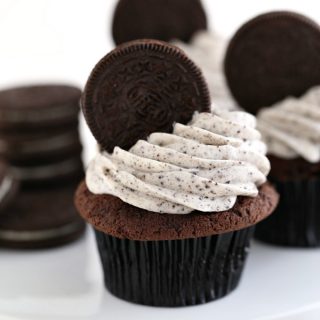 1 cup butter (room temperature)
4 cups powdered sugar
2 tablespoon heavy cream
15 Oreos (more for topping cupcakes)
In a food processor place Oreos and pulse until they are chopped fine, you can crush them in a plastic bag with a rolling pin, but if you are going to pipe the frosting onto the cookies chunks of cookie won't work out well.
In mixer beat butter until smooth, add in powdered sugar and heavy cream and begin on medium-low and mix until combined, then turn on high and whip until fluffy.
Add in oreo crumbs.
The filling of the Oreos makes this frosting extra creamy alternatively, you can purchase oreo crumbs in some stores and use those, but the filling adds to the flavor of these.
Pipe the frosting onto the cupcakes with a large star-shaped tip and top them off with an Oreo.