Sprinkle Chocolate Chip Skillet Cookie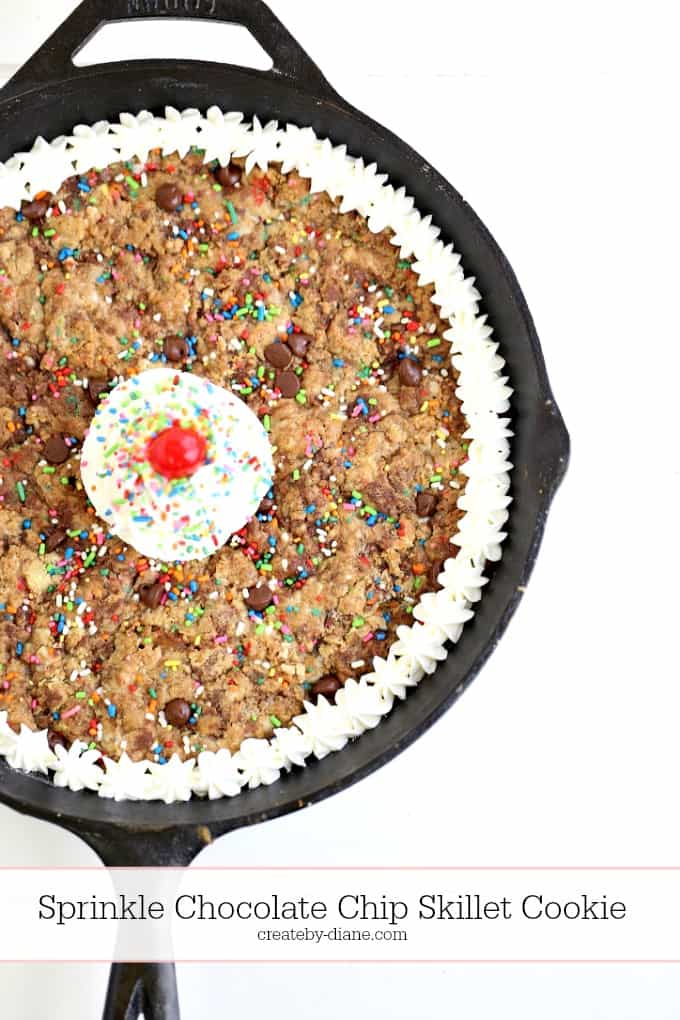 1/2 cup butter
1/2 cup sugar
1/2 cup brown sugar
2 cups flour
1 teaspoon baking soda
1 egg
1 egg yolk
1/2 teaspoon salt
2 teaspoons vanilla or butter vanilla
1/2 cup chocolate chips
1/4 cup rainbow sprinkles
powdered sugar
sprinkles
cherry
In a small bowl whisk eggs, salt and vanilla together.
In a 12 inch cast iron skillet, heat the skillet over medium-high heat.
Add butter, once it's melted stir in sugars.
Whisk in flour and baking soda.
Next add in the eggs, salt and vanilla.
Quickly stir in chocolate chips and sprinkles and smooth mixture. (If you over-mix the chips they will begin to melt)
(I reserved a tablespoon of sprinkles and put them on the top of the cookie before baking.
I used a 12-inch cast iron skillet.
If you want it higher use a 10-inch skillet and you may need to bake it a few more minutes.
Bake at 350° for 15-20 minutes. I've made two of these and they were both done at 18 minutes. The edges of the cookie were firmer than the center which is what you want in a soft hot cookie. Remember in a cast iron skillet the cookie will continue to cook in the pan as it cools, so don't overbake it.
Whip up some heavy cream with a tablespoon of powdered sugar and decorate you cookie cake and top it with some sprinkles and a cherry.
Recipe by
Created by Diane
at https://www.createdby-diane.com/2016/03/sprinkle-chocolate-chip-skillet-cookie.html