Skillet Jalapeno Popper Dip with Bacon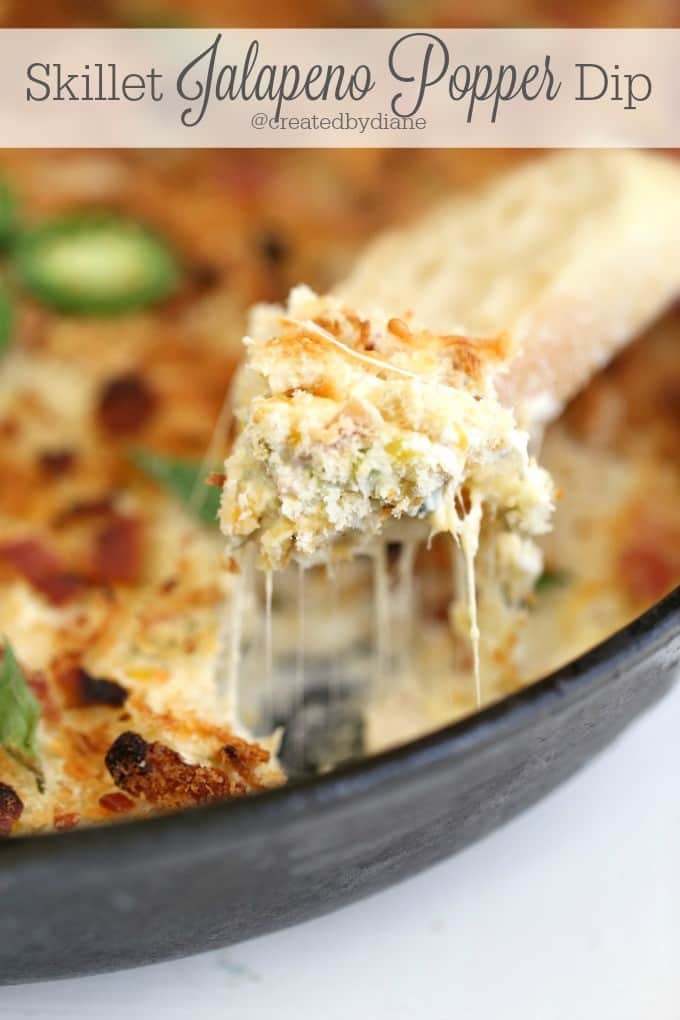 2-8oz packages cream cheese
5 jalapenos diced fine
3 green onions diced
1/2 onion (3/4 cup diced)
2 1/2 oz bacon cooked and chopped (about 8-10 slices) can use precooked bacon
1/2 cup Greek yogurt
1/2 cup mozzarella cheese
1/2 cup cheddar cheese
Topping
1/2 cup panko
1/4 parmesan cheese
2 tablespoons cooked chopped bacon
In a 12 inch cast iron skillet over medium high heat stir onions and jalapeno for 2 minutes.
Add in bacon and cook for 1 minute.
Add in cream cheese and yogurt and mix until smooth.
Stir in the cheeses as they cheese melt, then spread the mixture evenly into the pan and remove from heat.
Mix the panko with parmesan and bacon and spread it over the top of the cheese mixture.
Place under broiler for 3 minutes on high (watch so it doesn't burn)
Serve with chips or bread.
This dip will stay warm in the pan for a while, which is one great thing about cast iron.
If you use a smaller skillet, the dip will be deeper.
You can easily reheat the dip if it cools off by placing the pan back on the burner on medium heat for a few mintues.
Recipe by
Created by Diane
at https://www.createdby-diane.com/2016/01/skillet-jalapeno-popper-dip-with-bacon.html