Lemon Puttanesca Pasta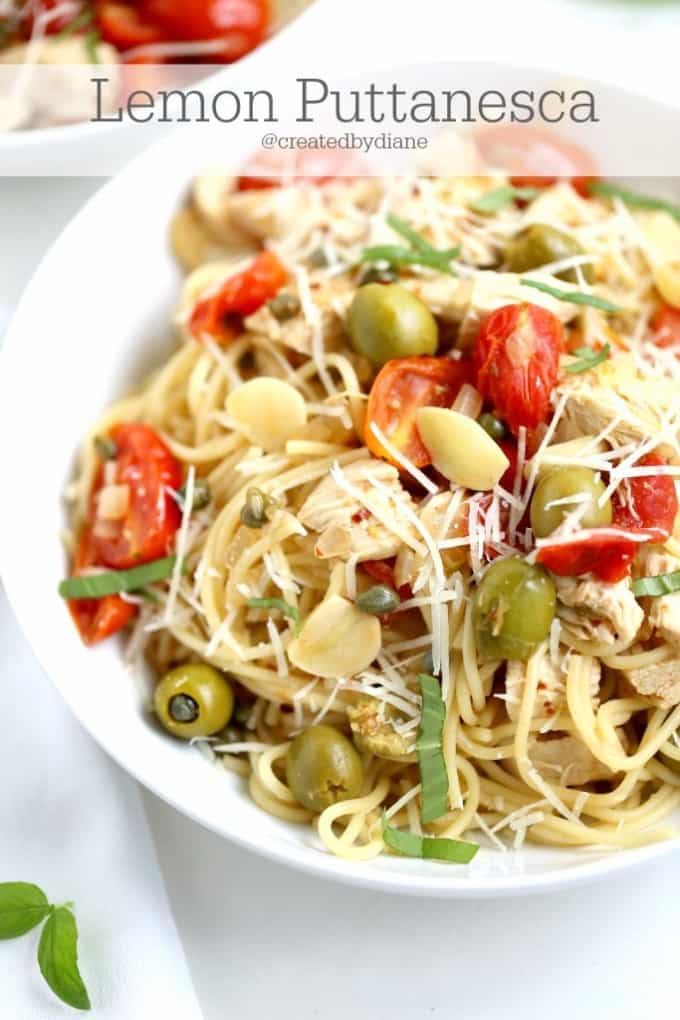 1 lb spaghetti (cooked according to package directions)
1½ lbs boneless skinless chicken breasts
1½ cups grape tomatoes sliced in half
2 T capers in juice
½ cup fresh lemon juice
½ cup green olives (I used Lemon Stuffed Olives from Star Foods)
4 garlic cloves sliced
½ cup onion diced
2 tablespoons olive oil (I used Star Foods Olive Oil)
½-1 cup of pasta water
1 teaspoon anchovy paste
pinch, crushed red pepper
4 basil leaves sliced
¼ cup Romao Cheese
Cook spaghetti and reserve 1 cup pasta water for the sauce.
Cut chicken into bite size pieces.
Heat skillet on high and add a tablespoon olive oil and garlic and onion and stir.
Place chicken in the skillet with tomatoes, lemon juice and anchovy paste scoop out a cup of pasta water stir and cook until chicken is fully cooked.
Add olives and capers and cook 2 minutes.
Mix with spaghetti.
Mix well, serve with grated Romano Cheese.