Eggs Benedict Enchiladas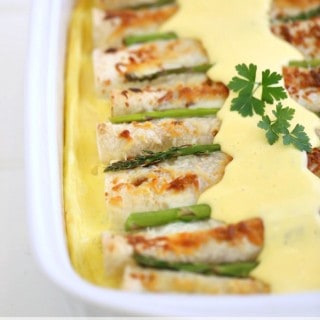 8 flour Tortilla Land Tortillas
8 oz + 1 oz for top Monterey Jack Cheese
1 lb cooked ham
1/2 lb Asparagus
6 eggs
1 1/2 cups whole milk
Preheat oven to 350°
Heat a skillet over medium heat and cook tortillas on each side until they are fully cooked.
Inside each tortilla wrap 1/4 cup cheese (1oz), 1/3 cup ham (2 oz) and two spears of asparagus and roll each tortilla and place it into a 13x9 baking dish.
With an egg beater mix milk and eggs, you'll want to be sure the mixture is smooth and creamy and that there are not particles of yolk not mixed, so it will look smooth and creamy when baked.
Pour egg mixture over tortillas, top with another 1/4 cup cheese (1oz)
Bake for 25- 30 minutes. You'll want to check the eggs, remove the pan from the oven as soon as the eggs are firm. Don't just set the timer and not check it until the end. I would start checking at 25 minutes (If your oven runs hot, test at 20 minutes)
Top with Hollandaise Sauce, recipe follows this one in the post.