Broccoli Cheese Soup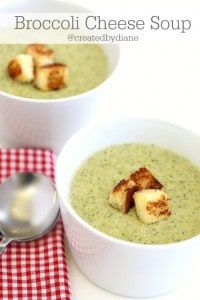 1 lb broccoli florets (cut into small pieces)
1/4 cup diced onion
1 tablespoon oil
4 cups whole milk
2 tablespoons chicken flavor
1 cup cheddar grated
1/4-1/2 cup Romano Cheese Grated
In 4 quart saucepan
Heat oil with onion and saute until slightly soft.
Add broccoli to saucepan.
Over medium heat cook broccoli until some it's lightly browning, this will add some great flavor to the soup.
Remove broccoli and onions.
Add 2 tablespoon butter and 2 tablespoons flour and whisk until it's cooked golden,
slowly drizzle in the milk while whisking to create the sauce.
Whisk in chicken flavor and heat over medium heat until soup begins to bubble lightly on the edges. Stirring constantly so it doesn't burn.
Add in both of the cheeses and stir until well blended and creamy.
Puree the soup with an immersion blender or in a regular blender.
Toasted croutons make a great topping.