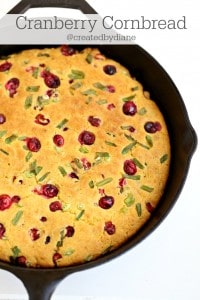 1½ cups cornmeal
½ cup flour
2 teaspoons baking powder
1 teaspoon baking soda
¼ salt
1 cup buttermilk (here is a tip if you need to Make Buttermilk)
⅓ cup butter melted and cooled + 1 tablespoon butter
2 eggs (beaten)
½ cup cranberries
1 jalapeno diced
2 green onions chopped
Preheat oven to 400 °
In a medium bowl combine cornmeal, flour, baking powder, baking soda and salt together.
Add to it the buttermilk and the melted butter along with the eggs and mix just until all the dry mixture of moistened.
Stir in ¼ cup cranberries and ½ the amount green onions.
heat the cast iron skillet on medium heat, melt the butter cook the jalapeno for 1 minutes.
Pour the batter into the skillet and stir it gently to spread it out and distribute the cranberries in the pan.
Top the mixture with the remaining ¼ cup of cranberries and green onions.
Bake for 15-18 minutes or until a toothpick comes out clean, keep an eye on it. You don't want to overbake it or it will become dry.