California Roll Bowl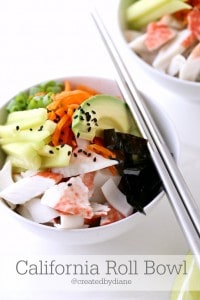 3 cups cooked rice (Calrose Rice 1 1/2 cups rice cooked with 2 cups water)
1 8 oz package Louis Kemp Crab Delights Flake
2 carrots julienned
1 English cucumber sliced into thick strips
2 green onion diced
1 avocado (sliced)
1 large sheet roasted seaweed (cut into small strips)
Black sesame seeds
Place 3/4 cup rice in each bowl (to have plenty of space to fit the other ingredients, it's best to use a half-rounded scoop of rice, so there is plenty of room around the edges to place the remaining ingredients without them spilling out of the bowls)
rice is best at room temperature to warm, vs ice cold.
Remove crab pieces from the package and cut into smaller bite-sized pieces.
Place all ingredients on top of rice.
Serve with my Asian Sauce, recipe follows)
Place black sesame seeds on top.