Pumpkin Spice Muddy Buddy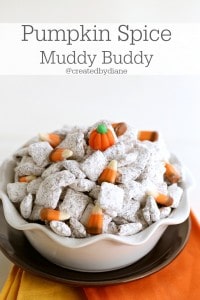 1 12oz box Chex cereal (I loved the honey nut with this. I also used the cinnamon Chex, that was very cinnamon, so only use that if you love cinnamon. I think the pumpkin spice was more of a hit on the honey nut cereal)
1 12 oz package chocolate chips
2 cups powdered sugar
3 tablespoons graham cracker crumbs
3 teaspoons + 2 teaspoons pumpkin pie spice
candy corn/pumpkins for decorations
Place cereal in large bowl
In microwave proof bowl melt chocolate for a minute or two.
Heat it for 30 seconds, stir it, heat it for 30 and stir and continue until it's all melted.
Mix 3 teaspoons of pumpkin pie spice along with the graham cracker crumbs into the chocolate, then pour it over the cereal with a wooden spoon or spatula. Stir to coat the cereal completely.
Add 2 teaspoons of pumpkin pie spice to the powdered sugar and pour that over the chocolate coated cereal. Toss until all the chocolate on the cereal is coated well. Add more powdered sugar if needed.
Use a strainer and place the mixture into the strainer to remove the excess powdered sugar.
It's ready to serve. Decorate with candy corn/pumpkins if desired.
Recipe by
Created by Diane
at https://www.createdby-diane.com/2015/10/pumpkin-spice-muddy-buddy.html