Spicy Beefy Meatballs with Onion Gravy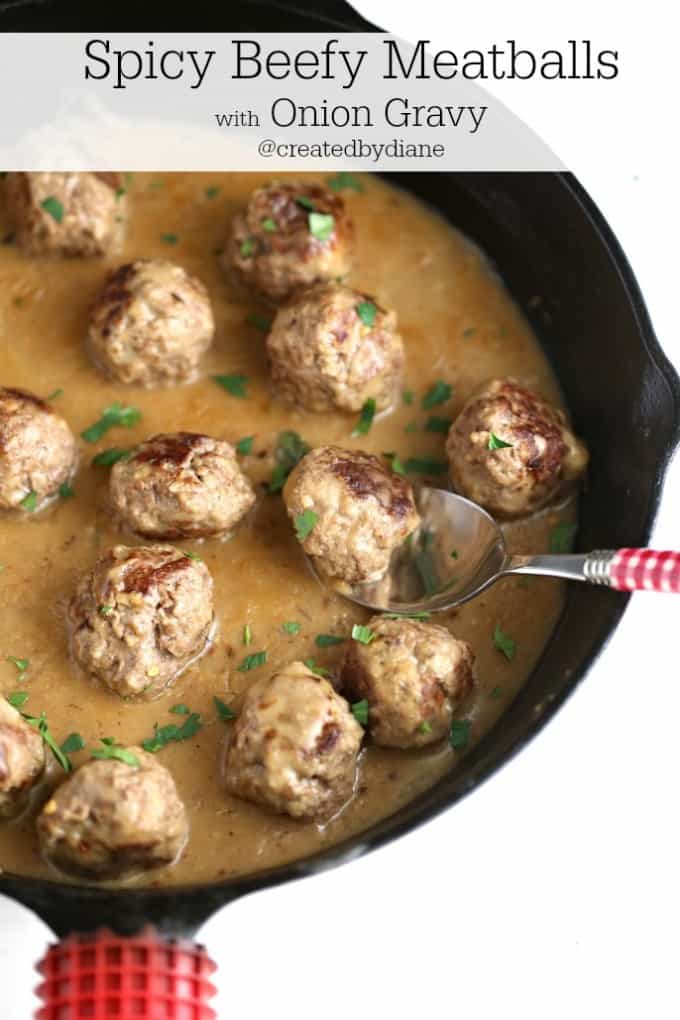 1 lb ground beef (I used 90% lean)
1 + 1/2 cup panko bread crumbs
1 egg
1 clove minced garlic or 1 teaspoon garlic powder
1/2 teaspoon dry oregano
1/2 teaspoon + 1/4 teaspoon crushed red pepper flakes
1 tablespoons oil
1 tablespoon butter
1 tablespoon flour
1/4 cup diced onion
1 1/2 cup water
2 teaspoons chicken bouillon
2 teaspoons beef bouillon
* add as much or as little bouillon as you prefer, these amounts worked for me
In a medium bowl mix beef with 1 cup breadcrumbs, egg, garlic, crushed red pepper, and oregano.
Shape in two tablespoon size meatballs.
Roll meatballs into the remaining 1/2 cup bread crumbs.
Heat skillet on high and place a tablespoon of oil in the pan.
Place meatballs in pan and cook on all sides until they reach an internal temperature of 145 degrees.
Near the end of the meatballs cooking, add the onion to the pan and stir to cook the onion.
Mix water with beef and chicken bouillon with a whisk to combine it together.
Move meatballs to one side of the pan, place butter in pan and flour, whisk until combined then pour
then pour in water with bouillon slowly while whisking over medium heat. Once you have poured in all the liquid, let the gravy come to a simmer (small bubbles while boiling) then turn the temperature to low and roll all the meatballs to coat them in gravy.
Serve with bread, over rice or egg noodles. These make great sliders too.
Recipe by
Created by Diane
at https://www.createdby-diane.com/2015/10/spicy-beefy-meatballs-with-onion-gravy.html