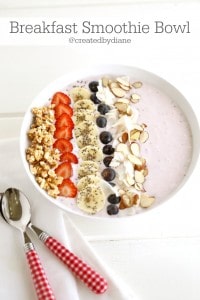 1 frozen banana
¼ cup blueberries
¼ cup strawberries
½ cup Silk Almond Milk
1 8oz Strawberry Rhubarb Noosa Yogurt
toppings
banana
blueberries
strawberries
coconut (Simple Truth Coconut Shavings)
Kashi Go Lean Crunch Cereal
Chia Seeds
In blender mix banana, blueberries, strawberries, along with almond milk.
To keep the smoothie thick and chilled, place bowl in the refrigerator or freezer to get it cold.
If you prefer the smoothie extra thick, add another frozen banana, or protein powder.