Pumpkin Funnel Cake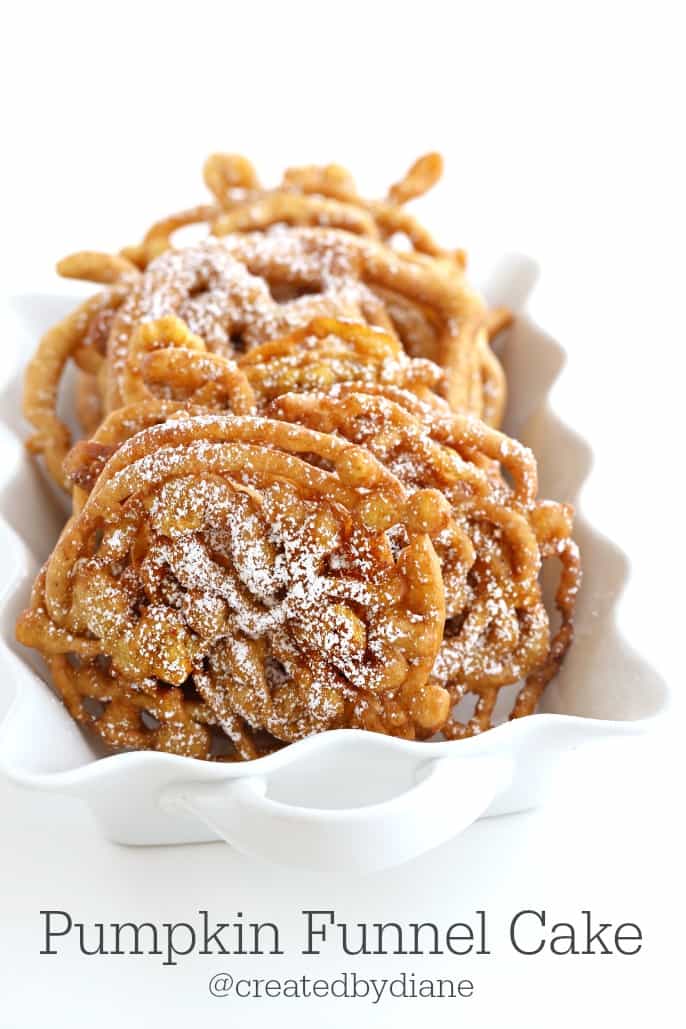 Serves:
8 5" funnel cakes
1 egg
1/4 cup brown sugar
1/3 cup pumpkin puree
1 1/2 teaspoon pumpkin pie spice
1 1/2 cups flour
1/4 teaspoon salt
1 teaspoon baking powder
1 cup milk
oil for frying
powdered sugar for dusting over after cooked
Heat an inch of oil in a frying pan (be sure the pan is large enough that the oil will not spill out when you add the batter.
I prefer a cast iron skillet, the temperature of the oil remains hot when you add the batter.
In a medium bowl mix egg and sugar with a whisk.
Then add in pumpkin puree and pumpkin pie spice.
Then add in flour, salt, baking powder and milk stir until completely combined.
Place batter into a squeeze bottle with a medium hole cut into the tip of a
Squirt batter in a swirling circle into the hot oil.
You can make the funnel cakes any size you like (I made 8 5" funnel cakes shown in photo)
The funnel cakes only take a minute or so to cook on each side when they are golden turn each cake with tongs onto the other side to finish cooking, then drain on paper towel.
Dust with powdered sugar.