Chicken Caprese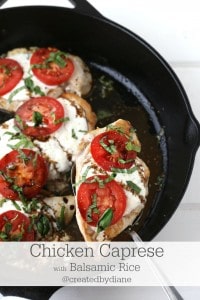 boneless skinless chicken breast (1 3/4 lb thin sliced Foster Farms Simply Raised)
mozzarella cheese (fresh mozzarella cheese is key, I used 3 balls of burrata)
tomato ( 2 Roma tomatoes)
basil (6 leaves of fresh basil sliced thinly)
salt and black pepper
balsamic vinegar
Heat skillet and get it hot.
Place chicken in skillet and heat on one side until the edges are cooked.
Turn the chicken over and put a lid on the chicken until it reaches an internal temperature of 165 degrees.
Remove lid, add slices of fresh mozzarella cheese and tomato slices on top of each piece of chicken.
Place the lid back on for a minute or two until the cheese melts slightly.
Serve with fresh chopped basil salt and pepper to taste and a drizzle of balsamic vinegar.