Slow Cooker Chicken with Rosemary and Potatoes in Wine Sauce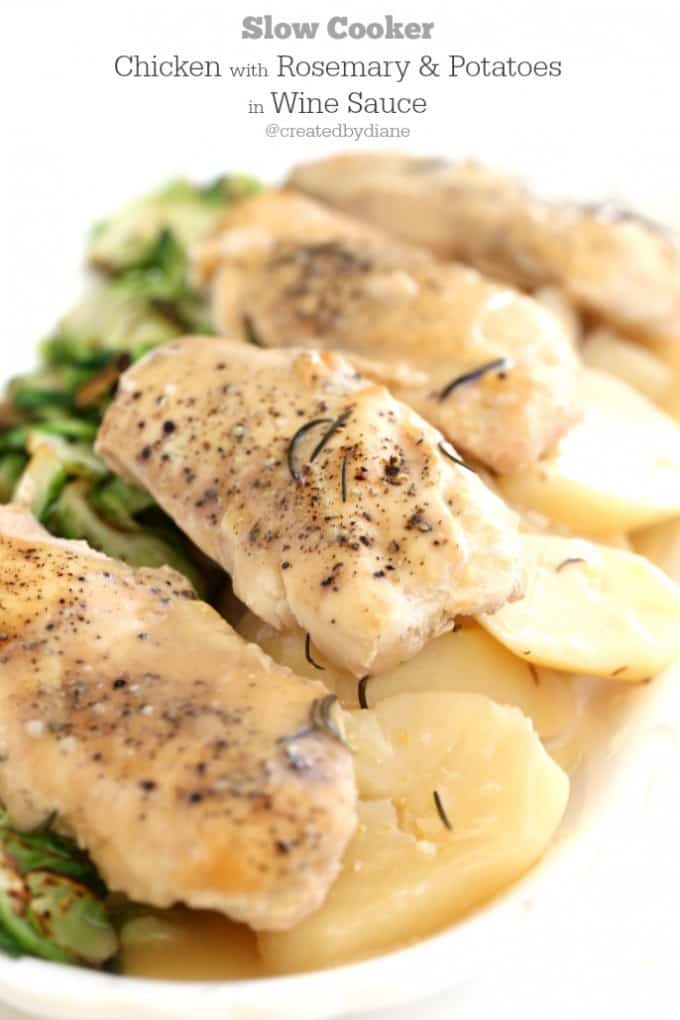 4 boneless skinless chicken breasts (about 2 lbs)
4 medium russet potatoes (peeled and sliced lengthwise)
2 sprigs fresh rosemary (or 1-2 teaspoons dry rosemary)
16 oz chicken broth
½ cup white wine
¼ teaspoon coarse salt
⅛ teaspoon cracked black pepper
1 tablespoon butter
1 tablespoon flour
1 pound Brussels Sprouts
Place potato slices in bottom of crock pot.
Lay chicken on top of potatoes
Add rosemary salt and pepper
Pour chicken broth and wine over top and push the chicken down into the liquid. (you don't want it to dry out)
Add a ½-1 cup water if needed.
Place in slow cooker on low for 6 hours
Remove chicken and potatoes.
In a saucepan, heat 1 tablespoon butter with 1 tablespoon flour add in hot broth slowly while whisking to thicken the sauce.
Stir fry 1 brussels sprouts in a separate pan on high for 4-5 minutes.
Plate the food on a platter and drizzle the sauce over the dish.
Recipe by
Created by Diane
at https://www.createdby-diane.com/2015/10/slow-cooker-chicken-with-potatoes-in-wine-sauce.html