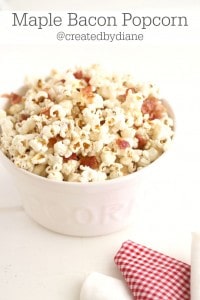 ½ cup popcorn
2 tablespoons oil (I use vegetable oil)
6 slices cooked chopped bacon (yes you can add more) heat it up so it releases the flavor.
2 tablespoon maple syrup (grade B)
2 tablespoon melted butter
¼-1/2 teaspoon salt
In 4 quart pan (with lid) heat oil and add popcorn cook with lid on over medium heat until popcorn is all popped.
Transfer popcorn to a large bowl (I use an 8-quart bowl) so you have plenty of space to stir and coat popcorn.
Add bacon to popcorn and stir.
Place melted butter and maple syrup together in a dish and drizzle it over popcorn stirring to mix it all in.
Now add the salt and mix well.
Enjoy!