Texas Egg Rolls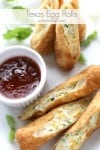 8 egg roll wrappers
8 oz. cream cheese (room temperature)
2 oz. cheddar cheese grated
2 oz. pepper jack cheese grated
2 diced jalapeños (remove seeds if you prefer less spice)
Mix cream cheese, cheddar and pepper jack cheese along with diced jalapeños.
Place 3 tablespoon in the center of each egg roll. Diagonally, fold corners into center and roll. (link to how to post in notes below)
Wrap the egg rolls sealing the seams with water so the filling does not fall out.
Heat oil in pan to 400 degrees.
Place egg rolls into hot oil and cook until golden brown.
It's easiest to cook just a couple of egg rolls at a time and have more control over how quickly they cook.
Remove egg rolls and drain excess oil on paper towels.
Allow to cool a couple minutes.
Slice the egg rolls diagonally and serve with Jalapeño Pepper Jelly Recipe HERE
One 4 oz jar of pepper jelly is a nice amount for 8 egg rolls.
*I use a 3 quart pot to heat my oil and check the temperature with a thermometer. I use about 2 1/2 inches of oil.