German Potato Salad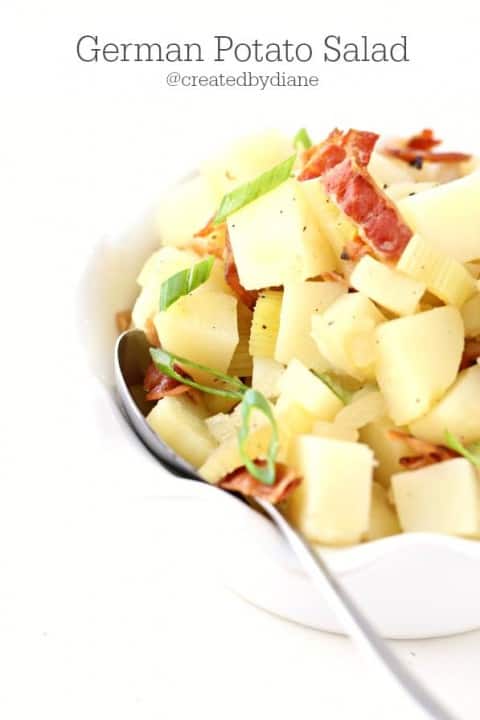 5 lbs yellow/gold potatoes
12 slices bacon (think)
1 medium onion diced
2 stalks celery diced
3/4 cup vinegar
1/4 cup sugar
1 1/2 teaspoon salt
3/4 teaspoon black pepper
green onion for garnish
Wash the potatoes and boil them until you can stick a fork or knife in them and it slides out easily.
Drain the potatoes.
You can cook the potatoes the day ahead and refrigerate them, when they are cold then you just peel back the skin with a knife and then dice them.
If you are cooking the potatoes and going to serve them immediately, score the skin of the potatoes with a knife around the middle and when they are finished cooking you can easily peel the skin off and then cut the potatoes.
Next heat up the bacon, you can start with uncooked bacon, cooked bacon, turkey bacon what every you like. I used cooked bacon and cut it into pieces and crisped it up in a skillet.
Remove the bacon from the pan.
Add in the onion and celery and saute until slightly tender.
Add in the vinegar, sugar, salt and pepper
Then place the diced potatoes into the skillet and distribute the sauce over the potatoes along with half the bacon
remove from heat when all the potatoes are heated and the sauce has coated them completely.
Stir in the remaining bacon and top the dish with some diced green onion.