Mini Strawberry Pies (4 mini pies)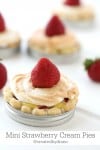 1/3 cup sugar
1 teaspoon cornstarch
1/4 cup water
1 egg yolk
1 teaspoon butter (not tablespoon)
1 tablespoon lemon juice
slight pinch of salt (tiny amount)
1/4 teaspoon vanilla extract (if your strawberries aren't ripe add 1/4 teaspoon strawberry extract also)
1 cup strawberries
In medium saucepan whisk sugar, cornstarch, water, egg yolk, butter, lemon juice, salt, and vanilla together.
Heat over medium heat whisking until it's thick
Add strawberries and gently stir (so you don't mash the fruit)
Heat one minute.
Pour filling into baked pie shells.
Top with meringue and bake at 350 degrees for 10 minutes or until the meringue is cooked and lightly brown on edges.
Refrigerate pies once they are cooled.
Garnish with a strawberry before serving.
Alternatively, you can top the pies with fresh whipped cream, but if making them a day ahead I've found I like the meringue topping and adding fresh fruit the day of serving.
Recipe by
Created by Diane
at https://www.createdby-diane.com/2015/07/mini-strawberry-pies.html