BLT Cole Slaw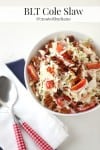 1 lb Package coleslaw mix (or 1 head cabbage shaved, 1/4 cup purple cabbage shave and one carrot grated)
1/4 cup diced red onion
8 slices cooked bacon or 1-1 1/2 cups chopped cooked bacon
12 grape tomatoes cut into quarters
1/4 cup mayo (Homemade Mayo Recipe Here)
2 tablespoon plain yogurt (buttermilk or milk will work well too)
1/4 cup sugar
1/3 cup white vinegar
2 tablespoon lemon juice (fresh squeezed)
1/4 teaspoon Salt
1/8 teaspoon Back pepper (fresh cracked is best)
Mix all ingredients together (except bacon and tomato) and blend until the "sauce" coats all the cabbage and onion well.
Then stir in tomatoes and bacon, leaving some bacon to top the dish off with for garnish.
Chill for 30 minutes for great flavor.
If you are making this ahead of time to bring to a party, you can leave the tomato and bacon on top and toss that in at the last minute for the bacon to stay crisp and the tomatoes not to lose their juice.