Homemade Funnel Cake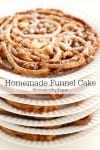 2 eggs
1/4 cup sugar
2 cups milk
3 cups flour
1/2 teaspoon salt
2 teaspoons baking powder
1/2 teaspoon cream of tartar
oil for frying
In medium bowl mix eggs with sugar, add in milk and whisk to mix all smoothly.
Add in flour, salt, baking powder and cream of tartar until well blended.
Dispense batter through a funnel or place it in a squeeze bottle.
Heat a pan with 1 1/2 inches of oil to 350-375 degrees.
Pour batter into hot oil, swirling it in circles to create an even layer of batter in the pan.
Cook until golden on one side then carefully using tongs or chopsticks turn the funnel cake over and cook on the other side until golden.
Remove and drain on paper towel, then top with powdered sugar.