Cream Puffs (Choux Paste)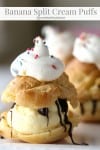 1 cup water
1/4 cup unsalted butter
1/4 teaspoon salt
1 teaspoon sugar
1 cup flour
5 eggs (4 eggs for batter and 1 egg for egg wash)
In medium saucepan, bring water, butter salt and sugar to a boil on medium heat.
When butter is all melted, remove pan from heat and add flour and mix vigorously with a wooden spoon until well blended.
Return pan to medium heat and stir until the mixture pulls away from the sides of the pan and forms a ball.
Remove pan from heat and allow it to cool 5 minutes.
Add (4) eggs, one a at a time beating with wooden spoon after each egg is added.
Let batter cool another 10 minutes
Use a two tablespoon scoop to share the batter into balls and place them on a parchment lined baking sheet separated evenly so they bake up nice about 2 inches apart.
In a small dish mix remaining egg and a one teaspoon water and brush over ONLY the TOPS of the cream puffs (be sure it does not drip down the sides or the puffs won't rise properly.
*Just a small amount is all that is needed to get a crisp top.
Bake at preheated 425 degreees oven.
Bake for 15 minutes, then reduce the heat to 375 degrees and cut a small slash in the sides of each cream puff to let out the steam as they finish cooking and dry out the insides a bit more. Continue baking until they are golden brown.
Remove from oven, test one by cutting it open and being sure the inside is not too moist or the cream puffs will be soggy. (Put them back in the oven if they need another minute or two)
You can slice them in half and put them in the oven as well.
Once they are all sliced in half and cooled completely they are ready to be filled. (prepare filling while the cream puffs are baking)
Use cream puffs within 24 hours. Makes about 30 cream puffs.
recipe source: Sunset Easy Basics for Cooking Book
Recipe by
Created by Diane
at https://www.createdby-diane.com/2015/06/banana-split-cream-puffs.html