Coconut Fudge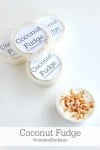 3 cups white candy melts (the better quality candy you use the better the taste) I use Merkins or Guittard
14 oz sweetened condensed milk
7 oz marshmallow cream
1/2 oz vanilla extract
1/2 oz coconut emulsion (or extract)
1/2-3/4 cup sweetened coconut (chopped fine)
1/4 cup toasted coconut
In medium saucepan heat white candy melts and sweetened condensed milk, heat on medium heat until candy is completely melted.
Remove from heat, stir in marshmallow cream, extracts and regular coconut.
Pour into an 8x8 pan lined with parchment or into individual plastic cups like I did and top with toasted coconut.
Chill until fudge s set up. Typically an hour or two.
Cut and serve if in an 8x8 pan. Place lids on top if it's in individual cups.