How to make Homemade Mayonnaise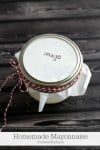 Author:
Diane Schmidt Created by Diane
1 cup oil
2 egg yolks
1/3 cup lemon juice (vinegar will work as well, I just prefer fresh lemon juice)
1/2 teaspoon salt (I prefer vourse kosher salt)
You can mix up mayonnaise by hand with a whisk, but I like electric appliances for this type of work.
I've used a blender and food processor, but often find I don't get it as thick as I'd like it.
I prefer using an immersion blender, each and every time I use it, the mayo comes out thick and perfect.
In a tall slender cup add oil, egg yolks, lemon juice, and salt.
Blend until thick and smooth, start the immersion blender with it resting on the bottom of the cup then gently put up on the wand of the immersion blender to whip the mixture into a thick and creamy smooth mayonnaise.
Alternatively you can make mayo in a food processor, add the egg holds, lemon juice or vinegar and salt, then pour the oil in slowly through the top whole as it's blending.
oil: I typically use vegetable oil or avocado oil, If you want to use olive oil replace only 1/2 the oil with olive oil
You can adjust the eggs and lemon juice according to taste as well, reducing them if you prefer.
You can use 1 whole egg instead of 2 egg yolks.
You can use pasturized eggs if you don't prefer to consume raw egg.
Recipe by
Created by Diane
at https://www.createdby-diane.com/2015/03/how-to-make-homemade-mayonnaise.html