S'more Peanut Butter Bars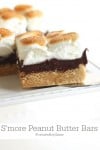 9 (twin) graham crackers (these will fill one layer in an 8x8 pan
1-2 package marshmallows (36 for top of S'mores) 18 for marshmallow cream
2 tablespoons butter
3.5 oz dark chocolate
With the peanut butter cookie dough pressed into the 8x8 pan (see above recipe for details)
press the graham crackers into the cookie dough
remove 36 marshmallows from the bag and reserve these for the top of the bars.
In medium saucepan over medium heat mix marshmallows (about 28 marshmallows)
with two tablespoon butter
then add in 3.5 oz dark chocolate cut into small pieces so it melts easily
Once the chocolate marshmallow cream is smooth, remove pan from stove.
Pour mixture over graham crackers and spread with a small offset spatula so it's even in the pan.
Bake at 35 degrees for 15 minutes.
Place the marshmallows with the flat side down on top of the chocolate marshmallow cream mixture.
Place in the oven for two minutes, then turn the broiler on high and place the pan on the middle rack and watch carefully as the marshmallows turn a light golden color.
*if the marshmallows cook too long they will melt a lot and they will be more difficult to cut and the result will be messier and stickier.
Remove pan from oven.
allow the bars to cool for 20 minutes
left out the parchment paper so the bars come out smoothly
Place the bars with parchment paper on a cooling rack, and let them cool another 5 minutes.
Cut the bars into pieces.
I found it easiest to cut in between the marshmallows, So some bars are 4 marshmallows on top, two on top, one on top for bite sized portions.
Recipe by
Created by Diane
at https://www.createdby-diane.com/2015/03/smore-peanut-butter-bars.html