Chocolate Peanut Butter Chocolate Chip Cookies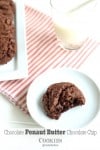 3/4 cup butter
1/2 cup peanut butter
3/4 cup sugar
3/4 cup brown sugar
2 teaspoons vanilla extract
2 eggs
2 1/4 cups flour
1/2 cup dutch cocoa
1 teaspoon baking soda
1 teaspoon salt
2 cups chocolate chips
In mixer bowl beat butter and peanut butter together
add in both sugars and vanilla
mix in eggs until completely combined
Add in flour, dutch cocoa, baking soda and salt, mix until combined
Add in chocolate chips
place 3 tablespoons sized scoop (Large scoop) on a parchment lined baking sheets about 2 inches apart, don't overcrowd your baking sheets.
Bake at 375 degrees for 10-12 minutes
Remove baking sheet from oven, the cookies can cool on the baking sheets (If you move large cookies when they are still hot, they tend to break) that is why these are baked 10-12 minutes they still cook until the pan cools. I use thick baking pans they take time to cool down (If you use thin baking sheets you may need to adjust the time) you want to cookies to have a slightly firm bottom and the top should be all set up. If your cookies need another minute or two check them often, but don't overbake them, remember they will still bake more on the hot pan after you remove them from the oven.
Cookies are big and will be chewy in the center.
Recipe by
Created by Diane
at https://www.createdby-diane.com/2015/03/chocolate-peanut-butter-chocolate-chip-cookies.html