Italian Chicken Sandwiches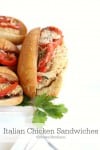 Author:
Diane Schmidt Created by Diane
Cuisine:
Italian, American
1¾ lb boneless skinless chicken breasts (slice thin if you purchase thick chicken breasts)
1 cup greek yogurt
6 oz. Italian Cheese (mozzarella, provolone, parmesan) all great options use your favorite- I used a blend of shredded cheese
1 cup panko bread crumbs
½ cup Italian bread crumbs
1 small onion
2 red peppers
2 medium tomatoes
2 cloves garlic
Italian Parsley
Oregano
Salt and Pepper
6 rolls
Preheat oven to 375 degrees
you will be baking the items on two baking sheets (have those ready and line them with foil for easy clean up)
Slice each chicken breast into 4 pieces about 1½ wide (cut the length to about 4 inches)
In one bowl place yogurt,
in a separate bowl place panko and Italian bread crumbs and mix them together
Place the chicken strips into the yogurt and coat each piece well, then roll them into the bread crumbs, then place them on one baking sheet spaced out so they are not touching.
Slice the red pepper and onions along with the garlic and place them on the second baking sheet,
dice the parsley, oregano and sprinkle that over the tops of the vegetables along with salt and pepper.
Bake for 20 minutes or until chicken is fully cooked and reaches 165 degrees on a meat thermometer.
I baked the two sheets at the same time. I turned the chicken over halfway through the cooking time, to be sure it would be crisp on all sides.
To be sure the chicken was really crisp, I place it under the broiler on high for a minute or two. (if you use the broiler on high, be sure to watch the chicken you don't want it to burn)
Slice the rolls, and place them on a baking sheet
To save from getting out another baking sheet, I just lift off the foil with the chicken and place it to the side, then assemble the sandwiches.
Place the chicken on the bottom, then pile on the tomatoes, onions, and garlic.
Top each roll with an ounce of cheese (about ¼ cup) then place that baking sheet under the broiler to melt the cheese and heat the roll. It takes 1-2 minutes.
Recipe by
Created by Diane
at https://www.createdby-diane.com/2015/02/italian-chicken-sandwiches.html