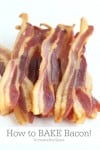 thick sliced bacon
rimmed baking sheet
baking rack
aluminum foil
Line a baking sheet with foil,
lay baking rack on top of foil,
place bacon on rack,
be sure it's close together, without overlapping.
bake at 400 degrees for 15-20 minutes for thick sliced bacon Can take up to 30 minutes.
Turn the bacon with tongs and bake it until it's crisp on both sides.
Be sure if you want crisp bacon, that you bake it long enough.
Test a piece with a pair of tongs,
pick up a piece, if it's flopping over,
give it a couple more minutes.
*note for thinner bacon check at 10 minutes at then every couple minutes until the bacon is as crisp as you prefer.