Chicken Baked Ziti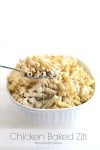 1 lb ziti noodles
1 lb ground chicken
2 tablespoons butter
2 tablespoons flour
1 cup chicken broth
2 cups milk
1-2 teaspoon chicken flavor
1 1/2 cup mozzarella cheese (I used part-skim)
Ground black pepper
preheat oven 350
Boil ziti noodles according to package, don't overcook them. (Cook to al dente)
In a skillet, cook ground chicken. Check with a thermometer that it reaches 165 degrees.
Prepare sauce: In skillet melt butter, whisk in flour and slowly pour in milk and chicken broth add in chicken flavor. (I like the additional chicken flavor, I used a reduced sodium chicken flavor packet)
Drain noodles, add cooked chicken and sauce to the pan, along with 1 cup of mozzarella cheese stir until all combined.
Pour into a 9x13 baking dish
Pour mixture into pan, top with remaining cheese
Bake for 15-20 minutes or until cheese is melted and starting to turn golden brown.