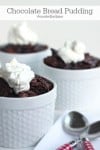 12 cups croissants (cut into pieces, 10 croissants)
2 cups heavy cream (I use real California Milk)
2 cups whole milk (I use real California Milk)
¼ cup brown sugar
2 teaspoons vanilla extract
6 eggs
12 oz chocolate (I use Ghirardelli 60% cacao Chips)
¼ cup dutch cocoa
Cut bread into one inch pieces (apporximatly)
Fill the jars or ramekins with the bread (or place it in a casserole dish)
whisk the heavy cream, milk, brown sugar, vanilla and eggs together
melt the chocolate in a dish in the microwave (about a minute)
in a medium saucepan heat the milk mixture just until warm
whisk in the melted chocolate and dutch cocoa
when it's all combined pour the mixture over the croissants
Bake at 325 degrees for 30-40 minutes until the pudding is set. Timing will be based on the size of the jar/ramekin used. I used both 1 cup and 2 cup sized dishes and they were done in 35 minutes.