Chocolate Coconut Football Cookies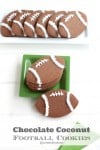 1 cup unsalted butter
1 cup sugar
1 egg
1 teaspoon vanilla extract
1/4 teaspoon coconut baking emulsion or extract
1/4 cup melted and cooled chocolate (I use 60% cacao from Ghiradelli)
2 tablespoons dutch process cocoa
3 cups flour
2 teaspoons baking powder
1 teaspoon salt
1/2 cup packed coconut (plus 1/4 cup for decorating)
2-3 tablespoons powdered sugar (for chopping coconut)
*Coconut: chop coconut with powdered sugar so it dries out a little bit and the powdered sugar will prevent the coconut from sticking to the knife, chop into small pieces as it will be easier to cut out cookies without long strands of coconut.
In large mixer bowl, beat butter with sugar
Add in egg, extracts, chocolate and cocoa and mix on medium until combined.
Add in flour, baking powder and salt along with coconut and continue to mix on medium until the dough pulls away from the sides and it's all blended.
Bake cookies for 7-9 minutes in a 400 degree oven.
Let cookies cool completely before icing.
Apply icing with a #2 tip for the laces and #3 for the coconut covered area, do the coconut covered part first.
While the icing is wet, dip the cookie into a shallow dish with the chopped coconut, dust off any excess, pipe on the laces.
Allow the cookies to dry completely before stacking.
Coconut Icing recipe here https://www.createdby-diane.com/2013/03/coconut-cut-out-cookies.html
1½ cups powdered sugar
1 tablespoon corn syrup
2 tablespoon water
¼ teaspoon coconut emulsion
2 drops white Americolor Coloring
Mix all ingredients until smooth. Add more water or powdered sugar to adjust the consistency. I use a 10 second rule when icing and in the bowl I drag a spatula across the icing and when it takes 10 seconds to fill in completely, that timing will work well for piping so that the icing doesn't spread all over the cookies
Recipe by
Created by Diane
at https://www.createdby-diane.com/2014/10/chocolate-coconut-football-cookies-2.html