Avocado Cheesecake with Pistachio Crust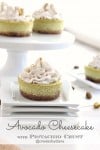 Serves:
12-15 cupcake size
Crust:
2 cups whole vanilla wafer cookies
1/3 cup pistachio nuts
3 tablespoons butter
Filling:
2 8oz. packages cream cheese (room temperature)
1 cup sour cream
1 cup sugar
2 avocados
3 eggs
1 teaspoon vanilla extract
*2 tablespoon chopped pistachios for topping
In food processor pulse vanilla wafers until they break up smaller, then add in the pistachios and butter, pulse until it's finely ground and comes together in clumps.
prepare cupcake pan with baking spray or butter lightly.
Place 2 teaspoons of crust mixture into each compartment of the cupcake pan and press it smooth on the bottom with a tart pan tool or bottom of a small measuring cup.
Mix room temperature cream cheese in mixer with with sour cream and avocado along with the sugar (to be sure avocado will be smooth press it through a fine strainer.
Mix until completely combined.
Add in vanilla and eggs one at a time, mix just until each is incorporated. (do not over mix eggs as cheesecake tend to crack then)
pour three tablespoons of cheesecake mixture on top of crust
bake at 350 degrees for 20-25 minutes or until cheesecakes are set and firm in the middle.
remove from oven and allow the cheesecakes to cool
when cool, place tray in refrigerator until fully chilled
to remove cheesecakes from pan, slide a very thin plastic spatula or knife around edge so the cheesecakes release easily.
Top with buttercream frosting. I added 1 tablespoon vanilla extract and 1/2 teaspoon pistachio extract to the frosting and piped it on with a large star tip and topped the cheesecakes with chopped pistachios.
Recipe by
Created by Diane
at https://www.createdby-diane.com/2014/09/avocado-cheesecake-with-pistachio-crust.html