Avocado Potato Salad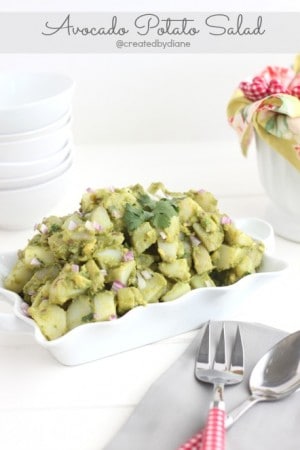 2 1/2 pounds medium red potatoes
2 ripe California Avocados diced
1/2 red onion diced
1 lime juiced
1/2 teaspoon cumin
1/2 teaspoon dry mustard
1/2 teaspoon celery salt
1/2 teaspoon salt
2 tablespoons fresh cilantro chopped
Wash potatoes, then place potatoes in a large pot and cover with water by an inch, cook until tender.
Drain potatoes, and place potatoes into a container with a cover and refrigerate overnight.
The moisture in the container will make the skin on the potatoes easy to peel once the potatoes are cold.
Peel and cut the potatoes into 1-inch pieces and place them in a large bowl.
Place avocado, lime juice, onion, cumin, dry mustard, celery salt and salt into a small bowl and mix until creamy.
Add avocado mixture to potatoes and stir in cilantro.