Fresh Cherry Scone Recipe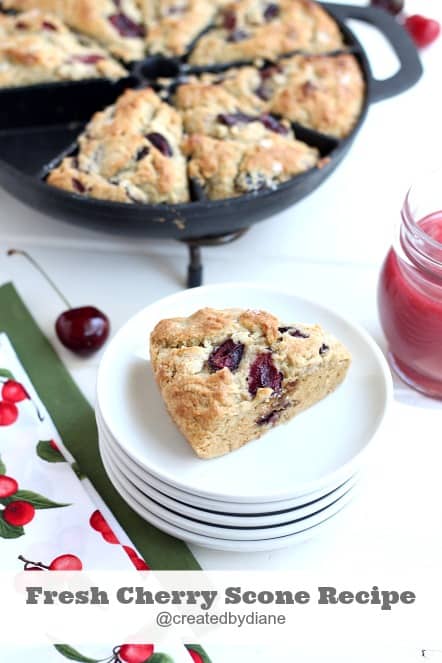 1 cup fresh cherries, measure after pitting and cutting in half or quarters
1 cup flour (plus about 1/4 cup additional flour)
1/4 cup brown sugar
1 1/2 teaspoons baking powder
1/2 teaspoon salt
1/4 cup cold unsalted butter
1/4 cup heavy cream
1 teaspoon vanilla extract
1 egg
Preheat oven to 400 degrees
Blend flour, brown sugar, baking powder, and salt.
Cut in cold butter with pastry cutter until mixture resembles coarse crumbs.
Add in heavy cream, egg, vanilla extract. Mix until all combined.
Gently stir in cherries until they are barely incorporated.
Darker cherries that are overmixed with turn the dough blueish, so just fold them.
If your cherries are soft and not firm, freeze them for 10 minutes so they mix easier.
Place dough into a greased cast iron scone pan (the scones don't get as crisp in the cast iron but they taste great) I have pre-heated my cast iron and tried it also and the timing was about 15 minutes, but they still didn't get a crisp edge.
Alternatively, I like to GENTLY knead out on the dough on a lightly floured surface. Use extra flour if dough is sticky.
Knead may be to strong of a word for these fruit scones, GENTLY FOLD the dough over twice to combine it on a well-floured surface.
Bake scones on a parchment lined baking sheet for 20 minutes at 400 degrees.
Scones are like biscuits do not over mix.
Feel free to add in more flour, these fruit scones are on the sticky side, but as I mentioned I really just FOLD the dough over to combine the cherries into the dough.
You can use 1/2 cup cherries if you are rolling them out, or they are over ripe to ensure the dough won't be too wet.
Recipe by
Created by Diane
at https://www.createdby-diane.com/2014/07/fresh-cherry-scone-recipe.html