How to make Cherry Syrup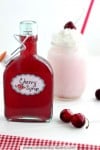 1 cup fresh cherries (pitted and cut in half)
1 cup sugar
1 cup water
Bring cherries, water, and sugar to a boil,
Simmer for 2 minutes giving the cherries a chance to soften and the flavor to release.
Strain syrup in a fine strainer pressing the cherries though leaving just the skin on the cherries to discard.
Place in a glass/plastic jar and store in the refrigerator for 4 weeks.