Avocado Onion Dip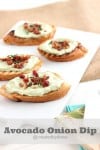 1 cup diced onion
1 tablespoon minced garlic
1 tablespoon oil
1/2 teaspoon salt
1/8 teaspoon cracked black pepper
1 ripe California Avocado
1 tablespoon lemon juice
16 oz greek yogurt or sour cream
In saucepan heat onion and garlic on medium with a tablespoon of oil, stir a few times and place a lid over it. Let the onions soften and caramelize.
I cooked them over medium heat, not too slow as to steam them under the lid, but low enough that they didn't burn. Remove lid after a few minutes and stir onions until they are all cooked and turning golden brown.
In mixer add onion mixture, avocado, lemon juice and yogurt. Beat until smooth and creamy. It can be mixed in a blender or food processor if you prefer.
Blend it until it's creamy and smooth.
Spread over toasted bread and top with crumbled cooked bacon and chives or small scallion pieces for a garnish.
This make a great dip, for pretzels, chips or to slater on your burger or sandwich.