Turkey Meatball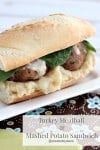 3 pounds ground turkey
2 egg
1 cup panko breadcrumbs
1/2 cup parmesan cheese
1 teaspoon oregano
1 clove garlic minced
2 tablespoon milk
1 teaspoon salt
1/4 teaspoon black pepper
*pancko breadcrumbs absorb the extra moisture that ground turkey produces. So they are worth buying if you don't have them on hand.
Preheat oven to 350 degrees.
Mix turkey, egg, bread crumbs, cheese, oregano, garlic, salt and pepper
Mix and roll into round meatballs. I used a 2 tablespoon size scoop to portion out each meatball, then rolled them.
Bake for 20 minutes or until cooked through turning to cook evenly.