Salted Caramel Frosting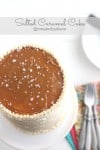 2 cups butter
8 cups powdered sugar
3 tablespoons heavy cream
1/2 cup salted caramel
Beat butter until fluffy, add in powdered sugar and heavy cream and salted caramel.
Mix until smooth and creamy.
Place some caramel on top of the bottom layer of cake, then add some frosting, then the second layer of cake, caramel and frosting, then add the top layer of cake, then crumb coat the cake and chill it, then add the frosting to the cake and pipe on a pretty star edge and top with a layer of caramel and add some fleur de sel.